16-day trek to Mount Everest Base Camp Pregnant
On the 10th of October 2013, Richard and I were going to embark on a 16-day trek to Mount Everest Base Camp. No one knew that we had got married and that this was going to be our secret honeymoon, well third if you include the South of France and Mexico the month before but who is counting. One might think this is a strange place to go on a honeymoon, however this had been a lifelong dream of ours and we figured if we can survive this, we can definitely survive the rest of our lives together as a The Paton Family.
As our departure crept up, our excitement levels were skyrocketing. You can only imagine then the confusion when two days before we were meant to leave we discovered we were six weeks pregnant. After seeing a few doctors and searching the worldwide web frantically we decided to embark on our adventure even though all the advice we got was to cancel our trek as it would be unsafe for me to hike or to go anywhere above 2000m.
We had been waiting to do this trek since the day we could remember and together we had been planning it for the last four months however we had just found out that we would become a family of three soon and we started considering the third member in our plans.
As everything happens for a reason, this trek was still on the card, just with one more passenger onboard. A passenger that hopefully one day will also have an adventurous sprit like his parents and therefore we new if we were to cancel this trek his sprit would be changed as well and if we were to embark on the trek his spirit would be like ours.
Here is the daily account from the most spectacular and unforgettable moments in our life. Our first true family adventure which was organised by Abercrombie & Kent.
Thursday 10th & 11th of October 2013 We arrive in Kathmandu and were taken to Dwarika's Hotel, which is one of the city's most famous landmarks and the hotel that we deiced to stay whilst in Kathmandu. This magnificent hotel features centuries-old woodwork salvaged from a variety of local buildings that had been earmarked for destruction. We spend our time in Kathmandu sightseeing the Old Kathmandu City and the Swyambhunath Stupa (Monkey Temple). Kathmandu is the largest city of Nepal and is the political as well as the cultural capital of the country. Like any big city, Kathmandu has seen rapid expansion in the last decade, but despite the hustle and bustle so typical of metropolitan cities, its people remain as refreshingly friendly.
Saturday 12th October 2013 – Fly to Lukla (9,381 FT.); Trek to Monjo (9300 FT.) Having gained a firm grounding in Nepal's history and geography we leave the city for the trek up into the mighty Himalaya. Up ridiculously early we board a Twin Otter (STOL – Short Take Off and Landing aircraft) flight to Lukla. This is perhaps the most famous high-altitude airstrip in the world.
I still don't know how planes can land on such a short and tilted airstrip. As we fly we watch the rugged foothills give way to the snowline and then to the soaring giants which we will be walking alongside during our trek. We catch a glimpse of Kanchenjunga, Lhotse and Makalu and then lastly Everest — the world's third-, fourth-, fifth- and first highest mountains.
At Lukla we meet our crew. One guide, one Sherpa and two porters for just Mr P and I. After spending some time organizing our packs we take our first steps along the trail that the Dalai Lama called "the steps to heaven." It is a sunny day and we are just wearing T-shirts hoping that this is the weather we will encounter along the whole way. As we walk we realize that this is not a one-way up trek, it constantly goes a couple hundred meters up and then a couple hundred meters down.
When we ask our guide "when do we start just going up" he explains that the trek to Everest Base Camp is like this all the way up. This is not going to be as easy as we hoped, it was only a couple hours in and we were already starting to feel it. After about a five-hour trek we stop for the night in the quaintly picturesque valley of Monjo. We were definitely in the need of a good night sleep because by the things we heard from trekkers in Monjo things were only going to get a lot tougher.
Sunday 13th October 2013 – Trek Monjo to Namche (11,283 FT.) After a super early breakfast we head out just before sunrise. Crossing over a wooden bridge we admire the Dudh Kosi (Milk River) as it tumble down, white with glacial suspension, from the high Gokyo Lakes. After a short distance along the Bhote Kosi we begin a steep ascent to Namche. For two hours we climb up and up, and as the rain start pouring we realize that this is where there real adventure begins. The temperature is decreasing rapidly and as we get more and more wet, everything gets more and more difficult.
We finally reach Namche which is the largest and most prosperous town in the Khumbu region. The town is a central hub for the area and its renowned bazaar sells everything from livestock and vegetables to traditional crafts such as hand-woven aprons and Tibetan boots. Due to the weather conditions that we hear are upon us now for the next week, we visited a mountain shop to buy ourselves more warm gear but to also to stock up our crew with a change of warm cloths and new water proofs. Although there is ego in spending money on having the best dressed porters on the mountain, it is also a wise and safe move – these guys will be your rock later on and it's obvious that the t-shirts and sneakers they are wearing weren't are going to make it difficult for them.
Monday 14th October 2013 – Trek Namche to Tashinga (11,320 FT.) Today everything got serious. It hadn't stopped raining since yesterday and all the weather reports were terrifying us. Many of the mountains had been closed and there was no way to get to the mountaineers that were stuck on them and they were predicting it be like this for at least a week. We wanted an adventure and we were definitely getting one. Thankfully everything with the baby was fine, I had had no morning sickness, so apart from being super cold, I was feeling wonderful. Todays walk was easy but we saw nothing but our feet and the rain!
Tuesday 15th October 2013 – Trek Tashinga to Pangboche (12,992 FT.) Another day walking in the rain. The trail from Tashiga descends steeply down to the Dudh Kosi River where we crossed a suspension bridge in the lee of a gigantic overhanging cliff (10,498 ft.). The main monastery of the Khumbu area is situated in a clearing surrounded by dwarf firs and rhododendrons. While Namche can be deemed the Sherpa capital, Tengboche is the religious center of this region.
The murmur of the monks chanting prayers, the blowing of conchs and the chance to sit with them for afternoon prayers amid the serene and amazing environment is a memorable experience however all of this is dampened by the wet weather and all we want to do is head to a teahouse for some warm food and lemon water. The trekkers we now met coming down were in pain and looked exhausted, none of them had made it and we began to wander whether we would.
Wednesday 16th October 2013 – Trek Pangboche to Dingboche (14,300 FT.) Finally the rain stopped and the sun has come out, but the temperature remained a stubborn -5 and all our muscles were aching. We step outside and finally get to see what has been hiding above those clouds that have been engulfing us the last couple of days. Giants. All around us, massive snow caped giants. It's breathtaking. The most beautiful sight I have ever seen.
We start our trail slowly, winding above the Imjatse River, to the main Stupa and then after 5 hours reach Dingboche which is a large and important town in the Chhukung Valley, set amid a beautiful patchwork of fields which are enclosed by stone walls protecting the crops of barley, buckwheat and potatoes from the cold winds and grazing animals.
We arrive just in time for lunch and get to enjoy sitting in the sun, snow all around us and surrounded by these magnificent giants. Here we realize how small we truly are and how big they are. Here everything we do seems to be at half the pace. We're way above were any tree can survive; nothing from here but rocks, oxygen is scarce.
Thursday 17th October 2013 – Rest Day in Dingboche (14,300 FT.) Today we have our rest day, meant for adjusting to the altitude and soaking in the beauty of the surroundings. The secret of safe acclimatization is to "climb high, sleep low," so with the little energy we have in the morning we take a 3-hour walk to catch more spectacular views.
Though this takes it out of us and we barely make it back for lunch, it wasn't long before we were relaxing again in the sun and exploring this little town. We find a local snooker hall, play a few games, try to get Internet as we have been unreachable for days, however no luck. Due to the bad weather conditions nothing is working.
There hasn't been any communication on this mountain for days. We are surround by snow and hear that from here up it gets a lot worse. Many mountaineers died in a few avalanches that have occurred and there are still hundreds of mountaineers snowed in awaiting rescue. The trek from here to the next village is still closed due to snow. Low altitude makes it difficult to sleep so even though we were in bed for 12 hours we only got a couple hours sleep if that.
Friday 18th October 2013 – Trek Dingboche to Lobuche (16,203 FT.) Today's walk offers views of Mt. Tawache, Ama Dablam and to the north, Pokalde, Kongma-tse and the great wall of Nuptse. After a walk of almost three hours, the trail from Pheriche joins near Dugla right before a small wooden bridge over the river of the Khumbu Glacier. I have been broken a few times on this path, I cannot breath, I am freezing, all my muscles are aching, I am in complete pain and tears are running down my face but somehow we make it to Dugla where we have lunch.
The break and food put me in good spirit and somehow I gain enough energy to continue for an hour up an extremely steep hill. The panoramic view of Mt. Pumori and other peaks west of Everest at the top is breathtaking.
Less and less oxygen means less and less speed but finally after a further two-hour trek we reach Lobuche, which is hidden and sheltered from the wind. The view at night from our lodge is magestic, I feel like we have left earth, are on another planet, maybe Pluto. The ice, the snow, the giant, the pain was all worth it.
Saturday 19th October 2013 – Trek to Everest Base Camp (17,594 FT.); back to Gorakshep (16,938 FT.) Again after maybe 2 hours of sleep we head out at 5 am for the culmination of our journey —this is the day we reach Everest base camp, however Mr P and I are in ridiculous pain after completing all other sections far quicker than we should have. Talks of getting a helicopter down were fast becoming a reality. The dream was always to see Everest and we will, how we get down doesn't matter.
We trek up the valley following a rocky moraine path that just reopened, with views of the icy-glacial pond and icebergs of the Khumbu Glacier below. I have never seen a Glacier in real life and this is what I came for. This was my dream come true. This glacier was the most beautiful things I have seen and will probably ever see in my life, and to share this with my wonderful husband and the baby growing inside me was a truly magical moment. After the last of the rocky moraine dunes, a short walk downhill brings you to Gorakshep on the flat field below Kala Pathar and Mt. Pumori.
Gorakshep is the location of the original Everest Base Camp. The trek to Everest Base Camp from Gorakshep follows the Khumbu Glacier and is especially intriguing for its landscape of 50-foot high seracs of ice that are a peculiar feature to Himalayan Glaciers.
Actually, Mount Everest Base Camp is not one specific site. Various expeditions have selected different locations as their semi-permanent camp and final staging area for their assault on Everest. The trek to Mount Everest Base Camp is not as remarkable as the ascent of Kala Pathar as is does not provide a view of Everest itself, therefore we decide that we must climb Kala Pathar before we get the Helicopter down.
So we trek up on the last mourning. These moments near the top of the earth are not to be rushed. The feeling of accomplishment in visiting the base camp for the tallest mountain on earth is exhilarating. Surrounded by a crown of peaks Kala Pathar is the perfect spot to end our adventure.
Since the first ascent in 1953 by Edmond Hillary and Tenzing Norgay, reaching the summit of Everest has been considered one of the greatest achievements in Mountaineering. I always dreamt of doing it before turning 35. However, after getting to base camp in the conditions we had to go through the last 9 days and after seeing it and all the beauty that surrounds it, I made peace with my dream and felt the sense of accomplishment. I decided that I had fulfilled my life long dream and now it was time to focus on fulfilling the next life long dream which was having a family of my own with my amazing Mr. P.
As the day slips along, we retrace our steps to our lodge in Gorakshep for a well-earned rest. The night is as difficult as the last 3 however the knowledge of where we are and what we have achieved makes all the discomfort bearable.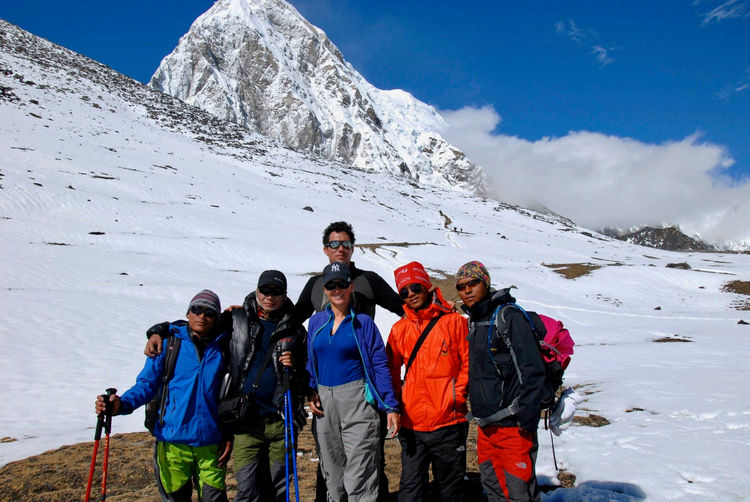 Sunday 20th October 2013 – Helicopter down to Lukla Originally today we were going to start trek day walk down to Lukla however baby takes priority now so a Helicopter was called to pick us up and to take us to Lukla. We decided to only stay in Lukla for a day as it was best to head back to Kathmandu to enjoy the rest of our time in Nepal relaxing and getting pampered. In the end it was our honeymoon.
Having got down to Lukla early we had some time to find the school that we were raising money for through the The Classroom in the Clouds charity. Before we embarked on our adventure we had decided to support this charity, as their mission is to provide affordable, appropriate & sustainable education for the children of Nepal, particularly in remote areas where they have no other support. They want all children to have the chance to achieve the School Leaving Certificate and thereby help realise their potential.
We found out from our guide that school was closed for holidays however I was still admitted about heading up one more mountain path to end our trek at the school that we were raising money for. Even if we weren't going to meet any children I wanted the baby to know that we had seen the school that we were supporting.
To our surprise when we got to the top of the hill the school was packed with children. It was a Nepalese National Holiday and they had all come to enjoy the celebrations. They welcomed us with open arms. Every child wanted us their classrooms, to show us their work. They were all so bright and loving and we will treasure the time that we spent with them.
The first Paton Family adventure had come to and end. We dedicate it to the Classroom in the Clouds foundation in Nepal as we too strongly believe that every child should receive a great education and hope that you will help us do so. I will be sending the money we raised from our trip to @CITCproject on the 31st of January therefore there still some time for you to help us reach our fundraising goal.
We hope that you will help us support this great cause. Thank you